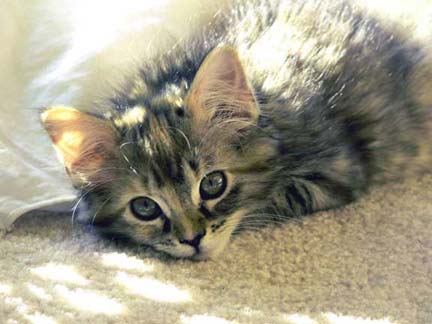 PURE Carpet Can help with unsightly yellow stains left on your carpet or upholstery.
We first detect the affected areas, using a black light/ultra violet light and moisture sensors. We then map out all affected areas and determine the degree of penetration.
Males Pets: urinate around mainly around surrounding perimeters and on vertical surfaces, i.e. walls, table legs, sofa ends, draperies.

Female Pets: usually prefer to urinate in open areas which makes detection an extensive process.
Often then not, pets usually go back to the same areas and repeatedly urinate in the same area. In these cases you will start to notice carpet fibers and the backing for your carpet start to deteriorate as the urine soaks in further. That's why its very important you do not put off treating these problem areas as the urine will spread and color distortion will set-in.
Just like pet odor, success of pet stain removal depends largely on how long the pet accident has been allowed to dwell in the carpet fiber. Urine comprises of uric acid and other organic compounds, which can discolor fabric and bleach color from the carpet. The extent of the damage will be decided by the length of time the urine is in contact with the carpet fibers and upholstery.
All prices are estimates and the process used and the severity and size of the affected areas determine the final price.
** Feel free to consult with us if you have any further questions about our Pet Urine Removal Treatment
Call Today For A Free Cleaning Estimate!
877-216-5509
PURE Carpet Care is a locally owned professional carpet cleaning company...NOT A FRANCHISE!