Area, Oriental and Persian Rugs are valuable rugs that require regular and proper care in order to provide long years of beautiful, useful service. Improper care can cause damage to the rug. PURE Carpet Care understands these concerns and knows how to clean them without damage. Our system is designed to clean these valuable rugs safely.
Traditionally, the typical cleaning method for Orientals rugs had been in-plant cleaning. However, with new technology the PURE Cleaning System is an excellent method that delivers top-notch quality results. PURE is an excellent and safe way to clean these rugs. It is safe for all Oriental carpets because it cleans on the acid side of the ph scale.
Host Dry Area Rug Cleaning Rate: $3.50 sq/ft - $4.00 sq/ft (pickup & drop off ONLY)
* We will remeasure your rugs before we start the cleaning process. Quotes are based on your measurements.
* NOT recommend for pet odors or any odor situation.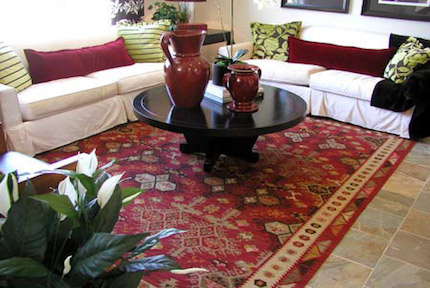 PURE Carpet Care – Cleaning Procedure
Vacuum the rug thoroughly

Apply a light application of Host to the rug

Brush using the extractor and vacuum

Apply a light application to the fringes and brush

We re-apply until totally clean
There are many myths about cleaning Area Rugs, one of which is that vacuuming wears out the rug. In fact, gritty dirt particles can act like sandpaper and wear away the fibers. The vacuum is the best way to remove dust, sand, grit, etc., from the carpet. A rug should be vacuumed every week, more often if it is in a very high traffic area. This is why it is so important to clean and vacuum regularly, even if dirt is not visible.
Wool Rug Care after cleaning...
Oriental rugs, like most carpeting, should be vacuumed on a regular basis to remove dirt and restore life to the fibers. Be sure not to vacuum the fringe with your beater bar! Use the end of a vacuum hose from a canister vacuum.
Call Today For A Free Area Rug Estimate!
877-216-5509
PURE Carpet Care is a locally owned professional carpet cleaning company...NOT A FRANCHISE!