Having your carpets cleaned by a professional cleaning company using the hot water extraction method: the dirt, dust and sand particles are being pulled out of your carpet, allowing it to do it's job of being your family's health filer once again! Why Hot Water Extraction? Because when coupled with a truck mount unit (a powerful "water vacuum" mounted in a professional cleaner's truck), it provides the deepest level of cleaning available. Your carpets are truly cleaned with this method. It's the method of cleaning recommended by not only the Clean Trust but by all major carpet manufacturers too.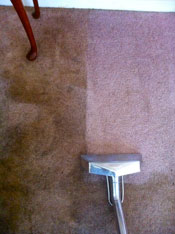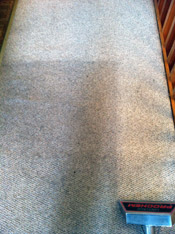 Your carpet, as long as it is regularly cleaned, is actually of great benefit to allergy and asthma sufferers. A clean carpet acts as a giant filter grabbing and holding onto dust and debris that would otherwise be getting kicked up into the air you breathe every time you or someone else walked through the room. Most of these particles are so small, you can't see them. While regular vacuuming helps, vacuuming alone won't prevent these microscopic particles from lodging ever deeper in your carpet. The real problem comes when you haven't had your carpet cleaned in over a year. Day after day, those particles are being ground into your carpet, more and more each day. After awhile, the carpet filter reaches maximum capacity and begins overflowing! Now every time you walk on the carpet, you are kicking up all those agitating particles. Call for a regular professional cleaning today! PURE Carpet Care 877-216-5509

Your Carpet is not the problem! Dirty carpet is. By having your carpet cleaned by a professional carpet cleaning company using the latest tools and technology, you can provide your family with a healthier, cleaner home! Your carpet is like a giant filter and just like vacuum cleaning bag's, when it's full it doesn't work very well. PURE Carpet Care specializes in restoring your carpet to its healthiest and cleanest! We don't just give your carpet the "once over," we take the time to really deep clean your carpet. Call Us Today! 877-216-5509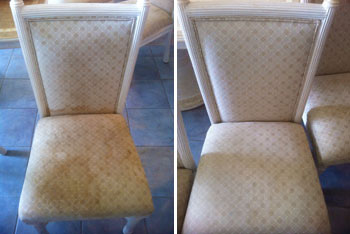 Is your couch, sofa, sectional or chair starting to look a little worn? What about those stains on your sectional? Furniture after a little while starts looking like old furniture, especially if you are blessed with children or pets. Our technicians are highly trained in a wide variety of fabrics and problem stains so that they can deliver the kind of quality results you've come to expect. If you want fresh clean furniture for a fair cost, give us a call today at 877-216-5509 and let's schedule a convenient time to talk about your specific concerns. We clean sectionals, Sofa's, love seats, couches, chairs, mattress and pretty much any type of furniture you have in your home. So, turn your old furniture into new again!

Do not put off treating these problem areas as the urine will spread and color distortion will set in. Urine stain removal depends on how long the accident has been allowed to dwell in the mattress fiber. Mattress staining can be an embarrassment, especially when friends and family members come over and spend the weekend. We use the safest, most effective methods for removing those problem spots and stains. Unlike many cleaners who claim to remove stains and spots and just spray and go, I make sure the problem is gone by doing a thorough deep cleaning of the area.

If your like most households, you spent a fair amount of your hard earned money for quality tile installation. And why not? Tile floors always look great and are very impressive when entering a home. Well, almost always. When tile and grout start getting dirty, especially the popular light colors, it begins to look a lot less impressive. Plus, as dirt and grime get ground into the grout it becomes tougher than ever to get it back to "like" new condition. PURE specializes in tile and grout cleaning and we use the best methods and tools to get the results your looking for!
Call Us Today for a free estimate!
Residential & Commercial
877-216-5509
PURE Carpet Care - locally owned professional cleaning company...NOT A FRANCHISE!