PURE Mattress Cleaning Process
* Allergy Relief Treatment optional
All areas are of your mattress are thoroughly vacuumed- Remove Dust and other Allergens

Pre-Treatment and Extraction Cleaning- We pre-treat the mattress with our Anti Allergen Hypo-Allergenic Pre-Spray, which is designed for people who suffer from asthma, allergies or chemical sensitivities. We then use our low moisture extraction process for a deep and thorough clean, which is highly recommended to reduce potential cleaning related problems.

Apply Allergy Relief Treatment- Finally, we apply Allergy Relief Treatment, which contains active ingredient derived from naturally occurring extracts found in certain fruits and vegetable seeds. Allergy Relief Treatment is non-toxic, biodegradable and does not contain pesticides, perfumes or other hazardous ingredients.
Our PURE Mattress cleaning process not only removes dust and germs but also kills viruses and most importantly neutralizes dust mites and their waste which can be the cause of many allergies. Most importantly, Allergy Relief Treatment is safe and effectively used in homes with young children (who are at the greatest risk for developing allergic illnesses) and pets.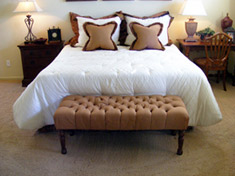 1st Mattress Steam Cleaning Pricing: $135 + tax
Additional Mattresses Cleaned
King Size - $90.00

Queen Size - $80.00

Full/Double Size - $70

Twin Size - $60

*Allergy Relief Treatment - add $15.00
Call Today For A Free Area Mattress Cleaning Estimate!
PURE Carpet Care is a locally owned professional carpet cleaning company...NOT A FRANCHISE!