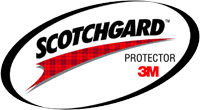 Once your upholstery has been properly cleaned it should always have a re-application of a quality fabric protector. In addition to regular upkeep and vacuuming of your fabric. Fabric protectors help fight against fabric abrasion, which can result in permanent appearance reduction. With the help of a fabric protector and the process of dry soil removal, you will notice a longer lifespan of your upholstered fabrics.

The Scotchgard

™ Protector Promise
Scotchgard protector keeps your carpet and upholstery looking good longer.

Your carpet and upholstery are easier to clean. Dry soil is easily vacuumed away, and spills can be spot cleaned more easily than unprotected carpet or upholstery.

Scotchgard protector provides lasting protection and resists soil even after heavy traffic and frequent vacuuming.
3 Reasons Why You Should Always Get Your Upholstery Protected
Upholstery protector reduces permanent stains: Freshly cleaned upholstery can be ruined by an ugly spot. Unprotected upholstery doesn't repel spills or exposure to soiling and stains. Being able to remove spots and spills more effectively, you can avoid permanent staining.

Make spots easier to remove: After the re-application of upholstery protector many spots can be removed easily with just water as spills will tend to bead-up on the surface of the upholstery rather than soak in.

Makes your next professional cleaning more effective: Having protector applied to your upholstery will enhance your next cleaning. More soil will be removed the next time your upholstery is professionally cleaned.
Call Today For A Free Estimate!
877-216-5509
PURE Carpet Care is a locally owned professional carpet cleaning company...NOT A FRANCHISE!