Water Damage Restoration
PURE Carpet Care is available 24/7 for Flood Restoration Emergency Services. Do not wait! Water damage requires immediate response to prevent further damage.

PURE Carpet Care is available 24/7 for Flood Restoration Emergency Services. There is a minimum call out fee of $145.00. This fee will begin the initial damage control work and the On-Call Technician can give you an estimated cost of the services required upon inspecting the damage. Prices and the scope of repairs are subject to change if further damage is discovered. PURE Carpet Care ONLY charges for the services that are necessary to stabilize your home and help to prevent further damage to your home. *Our Company is working for you, not your insurance company, and payment will usually be made directly to you. Payment to our company, in turn needs to be made by you to us. If you decide to restore your carpeting and upholstery further work and charges will be necessary. We will be happy to furnish a complete restoration price for both you and your insurance company.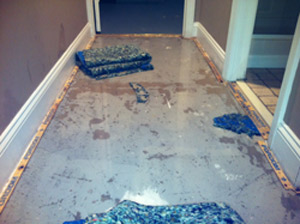 * Do not wait – Water damage requires immediate response to prevent further damage.
* 24/7 Emergency Services – 877-216-5509
Category one or clean-water floods originate from sources that do not contain harmful bacteria or pathogens that pose a substantial threat to humans. These sources may be from broken pipes or appliances, falling rain or melting snow, or sink or tub overflows that do not hold contaminants. It is important to remove the water as quickly as possible. With time bacteria and mold that contact wet surfaces will multiply. If the water has also come in contact with soil and other contaminants. It may escalate from a clean water flood (category 1) to a gray (category two) or even a black water flood (category three).


Our Procedure:
Complete a work authorization form. Have the insured sign and date it.

Identify health and safety hazards of the job. Look for electrical problems or gas leaks. Post warning signs where needed to notify anyone who may enter the structure of any potential hazards. Provide all technicians with proper PPE (personal protective equipment) that will be needed to perform the job safely.

Locate and eliminate the source of incoming water. Determine the category of the water source.


Smaller items should be moved to an unaffected area, if practical. Large or heavy items should be lifted or blocked to prevent further damage from moisture. Standard drying and restoration principles will be needed to restore these contents.

Extract water from the carpet and pad using the Water Claw. These tools are able to remove up to 97% of the water from carpet and padding without disengaging the carpet.

Remove water from hard surfaces using squeegees or other appropriate tools. In some situations, we may choose to apply an EPA registered disinfectant to the wet surfaces. Normally getting the structure clean and dry is preferred over introducing a chemical agent.

Thoroughly inspect anywhere water may have traveled. This includes under walls, into a crawl space or basement, stairwells, under cabinets or built-in appliances even HVAC systems and duct work.

In some cases we may choose to disengage the carpet and remove the pad or choose top down drying using air movers and dehumidifiers.


Install professional drying equipment including air movers and dehumidifiers to begin evaporating the water that could not be extracted. Use the structures air condition system and ceiling fans if there is no hazard (electrical shock). Apply principles of drying, Psychrometry and the S500 industry standards to determine the best drying procedures.

Monitor the drying process closely using appropriate tools such as a Thermohygrometer and various Moisture Meters.

Inform client of any un-salvageable items. After getting approval, dispose of these safely and properly.

Perform a post flood cleaning of the carpet to all of the affected areas and surrounding areas that may have been contaminated through foot traffic.


Perform a post Reinstalled carpet along with new cushion if required.
**

Water damage requires immediate response to prevent further damage

**
24/7 Emergency Services
877-216-5509